So i have wanted to dye my hair an outrageous colour for as long as i can remember and the wildest colour i have ever gone is red. Oh bad ass i know. It's just that as geeky as this is going to sound my mother is really against me bleaching my hair an outrageous colour or bleaching it at all really. I mean my parents are pretty laid back but when it comes to certain things they can be quite old school. But i always find a way round their rules ;)
I mean how lush is this? I would love love love my hair to be this colour. I would just be in my element. However the only problem with "un-natural" hair colours like blue, pink, green etc.. is that that it takes a lot of maintenance. I'm not sure which hair care products are the best to use i shall do some research, but my hair dresser told me that once you've bleached your hair a colour like this it takes a lot to keep it looking healthy and bright. Lots + lots of conditioning. So while i would kill for bright blue hair i'd be worried about how strange it's going to look when the colour begins to wash out or how annoying/hard it will be to grow it out.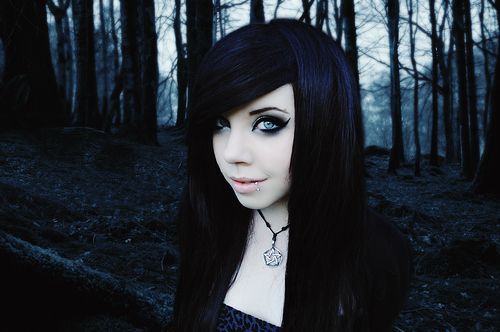 However, going back to finding a way of getting round my parents rules. I have practically dyed my hair every colour under the sun i can without bleaching it. I now have a soloution i have wanted to dye my hair blue black for like as long as i can remember but my mother has never agreed but i am sure she would agree to this over bright blue. I think the hair colour in the picture above is stunning + a really good alternative. It's like an outrageous change without the bleach. If that made any sense at all i feel like i just rambled on there but wish me luck got to try and convince my mother. I mean i should suit it because people have said i look like Selena Gomez + she has dark bluey/black hair ...
... i know this picture has been so edited and there is so much lighting etc but i just think that if it suits Selena then it could suit me plus my hair is already pretty dark so dying it would just be giving it that blue tint when the light hits it. If i can convince my Mother to let me give it a go i shall post pictures of the outcome :)
☮♥